9 Ways to Create a Sexy Environment With Your Partner Tonight
By: Emily Fata
Looking to make a sexy environment at home for you and your partner? Hoping for a more sensual experience in bed (or anywhere else you decide to get it on, for that matter)? It's time you put some more thought into planning to set the mood. A sensual environment doesn't take much effort; instead, it's considering the little things and integrating them collectively to make an impact.
Of course, we have a few tips and tricks up our sleeves to keep it real in the bedroom. Today, we've decided to share some all-time favorites with you to create an aesthetic sure to spice up any relationship.
Clear out any visual distractions
It's kind of hard to call your space a 'sexy environment' when there are dirty socks on the floor, open chip bags on the bed, and dirty dishes piled on your side table, no? The same goes for television screens and other distracting electronics. They just aren't sexy. By removing these visual distractions from the rooms you plan on making use of, it's easier for both you and your partner to focus on what really matters in the heat of the moment... and that's on your mutual sexual pleasure.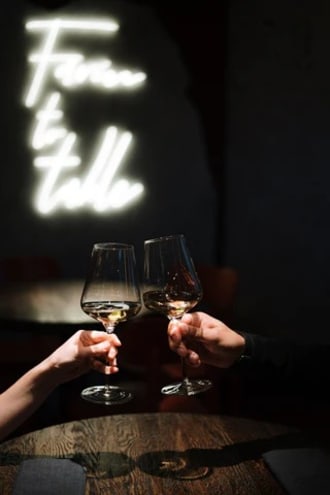 Enjoy a glass of wine together
Whether alcoholic or de-alcoholized, a glass of wine is a great way to start your evening. On that note, starting the evening off with any sexy date night ideas can be an amazing way to get in the mood and feel more intimately drawn to your significant other. During this time, you can chat about your day and unwind. Remember, just as communication in sexual relationships is important (more on that below), speaking openly about even the little things is an incredible way to build trust with your partner and get to know them on an even deeper level.
Remember the magic of sensual words
"When you're looking at me like that, I can't help but picture you on top of me."
"With that attitude, I want to handcuff and use a crop on your ass."
"In this lighting, I want to watch you strip for me."
Clearly, there is magic in certain words, which can help get anyone in the mood.
Side note: this is also a great time to assess your partner's reaction to your suggestions. If they don't obviously state that they consent to specific sexual acts, simply ask them how they feel about it before proceeding later in the night.
Create intimate ambience with mood lighting
Dim the lights, light some candles, and soak up the gentle glow of the ambient room. Harsh lighting can kill a sexy mood by hurting your eyes and straying away from a warm, intimate aura. For some, being naked under bright lighting can make them feel self-conscious about their bodies, particularly because it often casts unflattering shadows.
Don't cast yourselves completely into the dark, though! You want to be able to see your significant other and find your way around the room, especially if you're a couple prone to moving into different positions in the heat of the moment.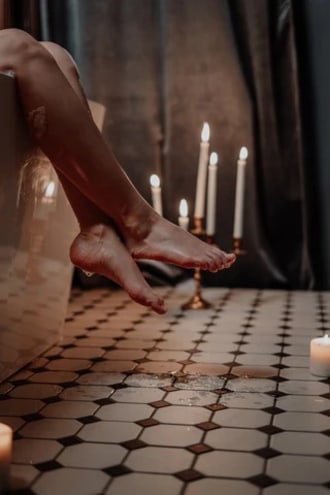 Get clean with a seductive bubble bath
Sure, shower sex can be a lot of fun (and we highly recommend giving it a shot, if that's something that you might be interested in exploring), but baths can be equally sensual. If your tub is large enough, soaking together in warm and bubbly water can be the ideal way to unwind completely. If the tub is too small for two, you can take turns immersed in a sudsy bath while the other washes you sensually, inch by inch.
Make undressing a sensual experience
Don't get undressed in a rush - take the time to make it as much a part of your sexy environment as your physical surroundings. As you slowly remove each article of clothing, you're able to spend time lingering on each area of your significant other's skin. Kisses, nibbles, and even licks can help you take in the other's body. It's also the perfect opportunity to get a head start on foreplay with things like oral sex, nipple play, and manual stimulation (like a handjob or fingering).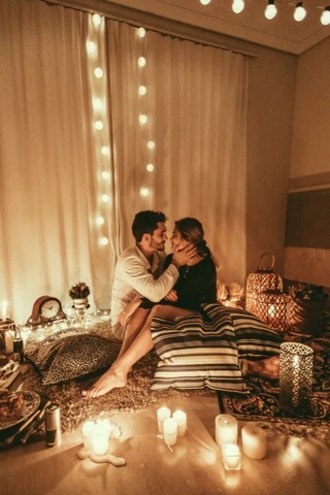 Take advantage of uniquely textured fabrics
It's no secret that soft, gentle fabrics feel so much nicer against the skin than scratchy, itchy materials. This is why considering adding elements to your sensual environment like high-quality bedding, soft pillows, and plush carpeting can make a world of difference. Breathable kinds of cotton, silky velvets, and even faux furs are a great place to start. When it comes to solidifying the romantic bedroom ambience, remember that colors can be impactful, too. Avoid bright hues and opt for warmer tones when sensuality is key to your décor.
Be open to using new sex toys
If using sex toys isn't already on your radar, we highly suggest that you consider it! There truly are sexy toys for every fantasy that a couple might have, whether it's discovering that perfect vibrator for couples or using a strap-on while pegging someone with a penis. Trying out other BDSM toys like spreader bars, blindfolds and masks, ball gags, and similar items for bondage and sensory deprivation can be a bonus.
(When you're done, be sure to check out our sex toy cleaning guide.)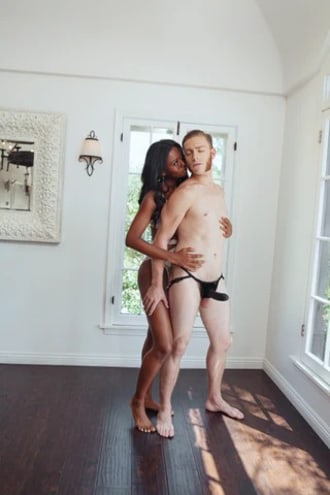 Think about what your partner enjoys in bed
This might just be the sexiest thing that a partner can do to set the mood. Ask one another what you want to experience, and you create a thrilling build-up to the moment where your significant other delivers on their promise. In a way, you're turning yourself on, too. Anything goes: from role-playing ideas to discussing what kind of restraints (for example, ropes and bondage tape) you want to be used on you.
How will you put this information into action now that you've got the foundation for creating the ultimate sexy environment? The art of sensualism in human relationships is something that all couples can benefit from and, thankfully, is quite easy to learn and adopt. Whether working solo and surprising your significant other or putting your heads together to set the mood and create a particularly sensual experience for you both, an intimate ambience is almost always possible.
The key is to be open to doing so.
What makes for a truly alluring and sensual environment? How do you set the mood for a romantic bedroom?