12 of Sportsheets' Sexy Toys for Every Sensual Fantasy
By: Emily Fata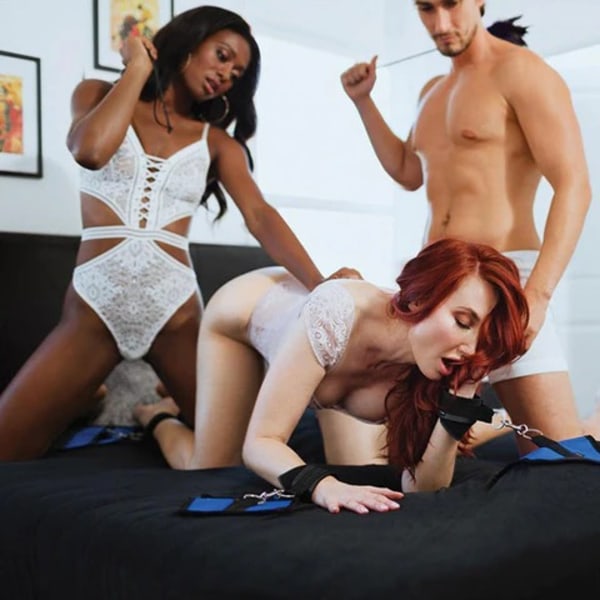 When it comes to quality sex toys, we take things very seriously here at Sportsheets. It's why we would position ourselves as the best sex toy company out there!
For those of you who were not already aware, Sportsheets is a woman-owned, woman-operated company that sprang into this world when women's pleasure was unfortunately not centered in most adult products. Over the last three decades, we've created a customer-driven brand that can be enjoyed by all people, seeking both coupled- and self-pleasure.
So, which of the products from our sex toy shop are our favorite? As you can probably imagine, it's hard to pick just one. Plus, our products are enjoyed by unique people; each has a different body and varying fantasies, meaning that we all have our own preferences. To get you started though, we've compiled a list of 12 incredible fantasy sex toys and objects that you can use to bring your sexiest dreams to life.
The Original Sportsheet®
This is one of our top-rated sex toys for a reason! Whether you're a newbie looking to enjoy bondage for beginners or a seasoned veteran looking for a high-quality product, The Original Sportsheet® is perfect for you. The design gives Doms the freedom to easily adjust the anchor pads, while the sub is powerless in their set positioning.
Under the Bed Restraint Set - Special Edition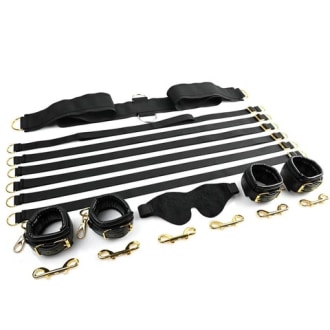 Turn your bedroom into an instant bondage room with one of the best sex toys on the market. The Under the Bed Restraint Set is the perfect combination of style and comfort for folks that are into restraint play. Straps are held in place under your mattress, making it easy to utilize all six restraints at once. Pair it with your favorite sensory stimulator, and you're set.
Door Jam Sex Sling
When buying adult products online, you want to know that they'll be durable and long-lasting. The Door Jam Sex Sling is precisely this. Perfect for anything from a kinky party to spicing up sex during marriage, you can get hot and heavy with its help.
The support of the sling can also aid in intimacy as a person with quadriplegia and increase pleasure for a person with paraplegia.
Bondage Tape
Delve into the world of fantasy sex toys with ropes and bondage tape. Even the most vanilla bondage practices can benefit from this tape. It only sticks onto itself and cuts away easily with scissors, meaning that it won't painfully pull at your hair or skin. We love using it to create our own restraints and blindfolds.
Everlaster Stud Harness
Hands down, our Everlaster Stud Harness is the best couples' sex toy for pegging! Snaps around the O-ring accommodate a variety of dildo sizes, and its adjustable straps prevent it from pinching your scrotum. Remarkably, this was designed with veteran intimacy struggles in mind, allowing these folks to enjoy penetrative sex with their partners once again.
Enchanted Flogger
When it comes to sexy toys, there's an enchanting world waiting for you. With the Enchanted Flogger, you can lash your partner as lightly or as roughly as you desire. It offers the edge that spanking can't always provide. There's just something about the sound of the sharp whip filling the room, followed by silence, the anticipation of both partners awaiting the moment the crimson velveteen tails meet the skin.
Expandable Spreader Bar & Cuff Set
If you're in the market for restraint-related erotic toys, a spreader bar might be perfect for you. This Expandable Spreader Bar & Cuff Set forces a partner's limbs apart with adjustable cuffs that wrap around the ankles or wrists. We love the fact that this set can come apart into three pieces, making it super easy to bring along with you on your travels.
Pleasure Feather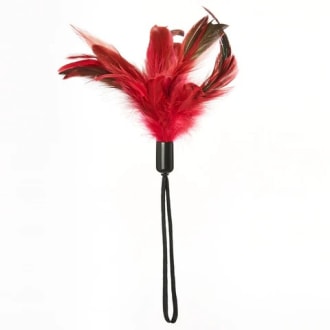 Are you looking for fantasy sex toys to make your erotic dreams a reality? Look no further than this sensual tickler. The mini Pleasure Feather uses soft rooster feathers. They're perfect for trailing across sensitive skin and along the body's erogenous zones. When blindfolded, the tickled partner can experience even more heightened sensations.
Skyn Silicone Dildo, 6.5"
When it comes to insertables, quality sex toys are a must. Hence, our Skyn Silicone Dildo is a perfect choice. Whether inserting manually or while using a strap-on, this toy is modeled after the size of an average penis, making it just the right fit. Its slight curve and bulging head allow it to stroke all the right places, whether vaginally or anally.
What are you waiting for? It's time to try it out!
Silicone Bunny Butt Plug
This cute Silicone Bunny Butt Plug is one of the best sex toys for fantasy role-play and stimulating the P-spot or A-spot. The real rabbit fur is an adorable added touch of color to this fun toy.
Be sure to check out our sex toy cleaning guide to tidy up after use!
Kegel Exercise System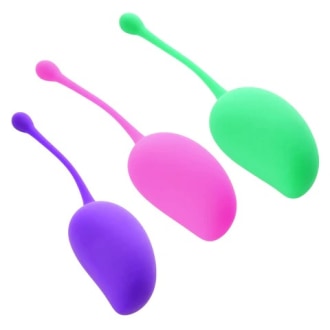 One of our top-rated sex toys for practicing bladder control and strengthening the pelvic floor, the Kegel Exercise System performs two jobs. Not only is it amazing for vaginal stimulation and turning yourself on, but Kegel exercises help with reducing discomfort during sex, vaginal delivery of a baby, and having sex postpartum.
Sincerely, Sportsheets Silicone Lube
Using the right lube can not only help make sex comfortable, but also make great sex incredible. Pair your Sincerely, Sportsheets Silicone Lube with your favorite erotic toys, use it during anal sex, or during masturbation sessions.
Whether a first-timer or making a second sex toy purchase, we hope that you found quality sex toys here that will help bring your fantasies to life. As your little box of sex toys grows, Sportsheets is here to bring you pleasure along the way - from cuffs, to paddles, to the top toys for pegging someone with a penis (and everything in-between). As you discover the best sex toys in our catalog, keeping it real in the bedroom will become a breeze.
What are the typical erotic toys you turn to in the bedroom? Which of Sportsheets' products are your top-rated sex toys?