Sex Toy Enlightenment
By: Emily Fata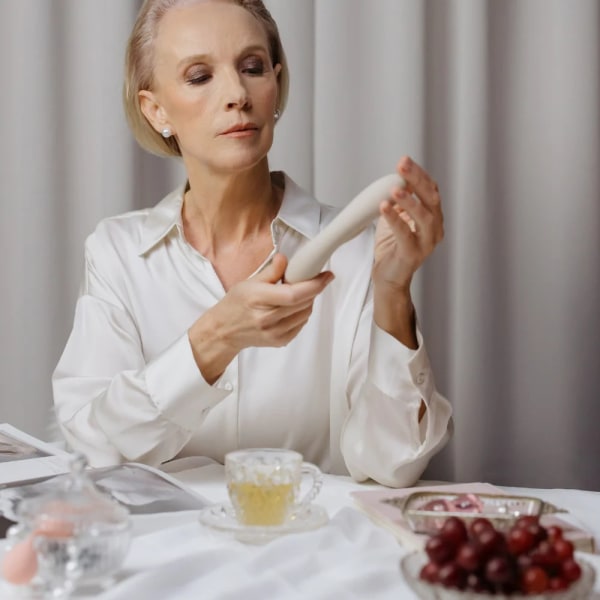 Sex toys can be a fun and novel way to engage in sex by yourself or with a partner. In today's modern world, there are hundreds of different types of sex toys, many of which can be used by people of any gender and sexual orientation. Incorporating toys into your sex life can be an enriching experience. Finding the right toy should be approached with a great deal of patience, playfulness an, safety.
Keep in Mind Before Starting
Cleaning is an essential process to ensure that using a sex toy is as safe as it is fun. In general, soap and warm water can effectively prevent a sex toy from collecting harmful bacteria. Such bacteria could contribute to the passage of STIs. Different toys are made of different materials that require specific cleaning methods. Ensure that you read each toy's maintenance and cleaning instructions carefully.
One toy, one hole, one time. Switching between anal and vaginal penetration with a sex toy can spread harmful bacteria between orifices, which can also lead to STIs. Be sure to clean the sex toy appropriately before switching users or orifices.
If you wish to use sex toys with your partner, be sure to discuss with them so that each party is fully consenting. Be respectful and patient of a partner's wishes to make sex more enjoyable for both individuals.
Sex Toys Explained
Traditional Dildos
A dildo is a sex toy, often clearly phallic in appearance, and is inserted into the vagina or anus to produce pleasure. Unlike the vagina, the anus is not biologically designed for penetration - so it's essential to use adequate lubrication!
Strap-On Dildos
Dildos come in all shapes and sizes. You may want to experiment to discover which of these sex toys (if any) is right for you. Some traditional dildos are designed to look like real penises and/or have testicles at the base of the shaft. A few of the fancier models can even produce liquid!
Some dildos are specially designed to be strapped onto a person's body. Below, you can see a harness that would attach to a dildo. Strap-ons can be utilized for an exciting role-reversal from traditional sex. When a female partner penetrates her male partner anally with a strap-on, it's referred to as 'pegging'.
Many heterosexual men are afraid to try pegging because of the pre-existing stigma of anal sex. However, it's important to stress that one's sexual orientation is not determined by sexual activity but rather one's attraction to a particular gender or identity. Pegging can actually be extremely pleasurable for men, as it stimulates their P-Spot (the prostate).
Vibrators
Vibrators come in a diverse number of shapes and sizes. They are often sold commercially as 'personal massagers'. Depending on the vibrator, it might be optimized for vaginal, penile, or anal stimulation. Vibrators are especially effective at providing clitoral stimulation.
In today's technologically advanced world, vibrators have developed drastically. Many of the vibrators sold today offer different options for varying intensities of vibrations. Sometimes a vibrator can be paired with a smartphone to be controlled remotely or even be synced with music. These new capabilities can allow for exciting and novel experiences for a couple or individuals.
Sportsheets provides a wide range of pleasurable vibrators. Newer products contain a pulsating or wave pattern features, which are used to arouse erogenous target zones (clitoris, vagina, anus etc.). This also can have many health benefits.
Two very popular options include the Unity and Peace Vibe.

The Unity Vibe has 5 USB Charge time: 80 minutes, Play time 120 minutes. Small and discreet (4 inches) excellent for travel, or on the go. Compact and flat sides fit perfectly in all the Sportsheets strap-on pockets.


The Peace Vibe Stick is designed for both vaginal and clitoral stimulation - making it a great all-rounder! Once your vibe stick is on, there are 7 different vibration settings that you can choose from. By clicking the same button, you can scroll through all 7 settings, LED light to distinguish functions until you've found one you like. For more enjoyment, gently bend the ears so that they stimulate both the clit and inside the vagina.
All of the Sincerely, Sportsheets vibrators come with a 5 year Give yourself peace of mind knowing your toy is meant to last. Not every toy on the market comes with that warranty.
Anal Play
Beads: As pictured, anal beads are a series of beads on a 'string' in ascending sizes. They are intended to be inserted into the anus slowly, one at a time.
Butt Plugs
At a time of significant arousal, or when one is nearing orgasm, a person or their partner should remove the beads from the anus one by one. Don't pull the beads out too quickly and make sure to discuss with your partner what speed provides the best sensations. It is often said that the insertion of anal beads is not what feels pleasurable but rather their removal.
These toys are similar to dildos; however, they are specifically designed for anal play. Some anal plugs double as vibrators, which might increase their appeal as a stimulating toy. Anal plugs are often used to help stretch the anus, in turn making anal intercourse easier.
Unlike some dildos, butt plugs have a wider base to prevent the toy from being fully inserted into the anus. If an object is fully inserted in the anus, the muscle that surrounds the rectal opening (called the anal sphincter) involuntarily closes and traps the foreign object in the anus. This can be painful, frustrating, and costly if you need to go to a doctor to have the foreign object removed from your anus. It can also be very dangerous.
Do not assume that something is too long to become trapped inside the anus.
Cock Rings
A 'cock ring' or 'cockring' is a ring worn around the penis, usually at the base. The primary purpose of wearing a cock ring is to restrict the flow of blood from the erect penis to produce a stronger erection or to maintain an erection for a more extended period of time.

If you have erectile dysfunction, then your body can't keep enough blood in the penis to maintain an erection. A penis ring will trap blood in the penis and increases the total amount of blood in the penis for a stronger erection.
Proper Way to Put on a Cock Ring
Many think a cock ring slips on the penis like a diamond ring; it doesn't. With a flaccid penis slip one testicle through the ring, then place the second testicle through the ring. When both testicles are in bend and slip the soft penis through. This will push the cock ring against the body and secure it at the base of the genitals. The best way to remember is; testicle, testicle, shaft.