9 Exciting Sex Positions For Couples
By: Sportsheets

Products Featured in this Post:
When it comes to breaking the barriers of boredom in the bedroom, different people try different things. You can get a bodage kit to enhance date night. You can pick up a book like the Kama Sutra to find new and exciting positions. You can invite someone else into your bedroom, or, you know, a few other people.
One way that many people like to take their activities to the next level is by introducing different sexual positions. New positions provide new angles of penetration, new sensations, and new levels of intimacy. You find exciting and original ways to touch each other, like new dance steps, waltzing around your partner's body.
And, maybe most exciting, you'll learn new things about your partner. The two (or more) of you will discover different passions, and learn that they like things you (or even they) may not have imagined. It's like walking down an unknown path together, an exploration of your sexuality and your bond.
What will you find?
Our Position on Positions
All of these proposed positions have been carefully vetted by experts, doing the reluctant work (poor them) of finding new ways to enjoy the pulsating thrill of human connection. But what's more, they are for couples of different orientations, interests, and physical abilities.
While we've broken these down into lists for gay, lesbian, and heterosexual couples, feel free to try any (or all!) of these nine positions. And feel free to modify them. Make them your own. These are ideas, and not rules. Whatever sexual positions you find, here or elsewhere, feel free to improvise. Introduce different toys. Add a blindfold to any of these. Use a flogger where it says to spank.
We chose these positions because they are new, exciting, and provide pleasure to both partners. They are out of the ordinary, beyond standard missionary of doggie-style, and range from easy to athletic. Even if one recommendation isn't for your orientation, experiment to see how you can modify it to fit.
After all, this is about you and your partner. So go exploring. This is just a jumping (or getting) off point. Dive in as deep as you want.
3 Great Positions for M/M Coupling
Here are three of our favorite positions for two males.
The Blind Hole
This is a way of penetrating that provides a ton of face-to-face intimacy, as well as the ability to move in different sorts of ways. The bottom partner (leaning back and spine curved) is receiving, and the top partner controls the rhythm, the angle, and the depth of penetration. It's a great way for newer couples to get to know each other, an intimate and athletic position that can work for any type of couple.
Anal on a Table
This is a step up (or a table up) from the standard (yet still enjoyable) missionary anal sex, but by placing both partners on a coffee table or the edge of a couch, it necessitates the top partner propping themselves up on his palms, the bottom on their elbows. This creates a new angle and a different kind of control. Both partners have to work together, thrusting back and forth. To change things up, a spreader bar can change whose legs are on the inside and outside, giving a completely different sensation.
Bent Over and Bound
This is pretty athletic. One partner bends over, with their hands and legs bondage barred to each other. They can't really move or walk, and are pointing their butt upward and outward, vulnerable. The other partner can approach from behind, ready for penetration. But this is a gentle dance, too: the standing partner obviously doesn't want to knock over their lover, so they have to be considerate as well as aggressive, balancing as well as penetrating. It's an exciting position, equal parts vulnerability and passion.
3 Positions for F/F Couples
Lesbian sex has some of the most varied and exciting positions possible. Here are some of our favorites.
Standing Strap-On Sex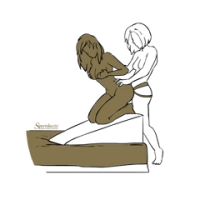 There are a lot of different kinds of strap-on sex, but one great position is where one of the women is on her knees, elevated, with her rear right at the height of her partner's toy. You'll want the receiving partner to be bent slightly forward, for better anal or vaginal penetration. One nice thing about this positioning is that a partner with bad knees or a bad back can be standing, alleviating pressure without sacrificing intimacy. Make sure you get a strap-on harness that is both comfortable and durable (and sexy!), and that can accommodate any dildo you'd prefer.
Breast Friends
This is a position that starts with kneeling, as you lean in close to each other so that you can rub your nipples together. While here, both partners can pleasure each other with their fingers or a vibrator. A variation on this could be to use nipple clamps to bind yourselves to each other, making a connection and becoming even more unified.
Bound Shower Oral
Feeling like giving a little present, but one that comes with a few 'stipulations'? Try tied-up oral in the shower. Binding your partner's hands leaves them wide open to your tongue and your desires. They'll have the warmth of the shower and the hotter heat of your mouth. And want to get less gentle? Try reaching around with silicone anal shower beads. They won't be thinking any clean thoughts.
Positions for Heterosexual Couples
Some positions inherently provide more pleasure to one partner than the other. And sometimes, that is fine. Other times, you want a position with mutual delights. Here are some positions to find those.
Froggie Style
This is like cowgirl, but the female doesn't set herself entirely on the man's body. Instead, she stays crouched up in the air, resting her hands on his chest or the floor, and her feet on the floor, moving up and down in a bouncing manner (hence, froggie style). She can vary speed, but this is a great position for her being able to take him in deeply, feeling the friction in her entire vaginal opening. And he'll like it, too. This is a great position if the male has a disability, since it involves very little moving or thrusting on his behalf. There can be, of course, but it isn't required.
Door Play
This is more than a new position; it's a new way of life. One partner (usually the woman, but experiment!) is suspended against a door with a door jam sex sling, right at the perfect height for her partner to enter her. She's suspended, using her hands to stabilize herself, but can move her pelvis, and bounce her torso. It is an intimate engagement, one where both partners exert as much control as you (both) like. You'll never look at your door the same way again.
Spread Eagle and Bound
This is one of our favorite positions. Either the man or the woman is tied to the bed, arms and legs wide open, ready for whatever happens. Contrary to popular belief, you don't need bedposts to make this work; an under the bed restraint system will allow this position on any bed. The exciting thing here is that the tied-up person, who is often blindfolded, has no idea what pleasure is about to come. A kiss, a lick, a tickle, penetration, manual pleasure... Usually it is a combination of all of these. Their senses will be heightened. The unbound gets to do what they know will make their partner happy, and will have the ability to get off how they choose, with a supple supplicant underneath them.
From ancient mystical books about sexual acrobatics to hot tips in Cosmo, we've always been fascinated by finding new positions and new ways to please each other - keeping couples connected. And we're never going to stop. With the right toys, the right sense of adventure, and the right partner, you can try something new every day.
Be respectful. Be generous. And be willing to explore. There's a whole world, right in your bedroom. Open the door to it.
---
Image inspiration from our friends over at Kinkly.com!