Holiday Picks From Sportsheets: The Best Sex Toy Company Out There
By: Emily Fata
Chances are, you're already on the prowl for the best holiday gifts, especially for that special someone. The good news is that you need not look any further than Sportsheets for all the amazing fantasy sex toys on your list. Santa Claus has come early for you this year!
It's time to stock up on the best sex toys ever for the holidays! Not sure where to start? Below, we've listed some of our all-time faves that we think everybody can benefit from. What are you waiting for?
5 Piece Hog Tie & Cuff Set
The 5 Piece Hog Tie & Cuff Set is everything you want in a bondage device. The durable cuffs are comfortable for the wearer, allowing them to be moved into various positions while they are held in place by the restraints. The adjustable hook and loop cuffs can also be used as handcuffs and ankle shackles on their own.
Of course, don't forget that full and enthusiastic consent is necessary from all participants before any sexual activity!
Anal Explorer Kit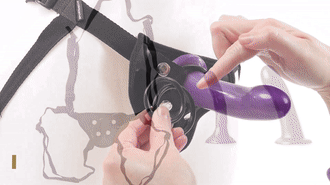 The Anal Explorer Kit is one of our best-sellers you'll love to jump on! Pegging someone with a penis while using a strap-on can be incredibly fun for everyone involved, as anal sex gives you the chance to stimulate the P-spot. This entry-level anal exploring harness is ideal for folx just starting to test the water, who are open to expanding their horizons (and their anus) with a little bit of practice.
Black Silky Rope
Are you interested in diving into the Japanese-style bondage play, Shibari? Our Black Silky Rope should be top on your list! Of the various ropes and bondage tape we offer, this option is gentle on sensitive skin, yet powerful enough to produce intricate and restrictive Shibari or Kinbaku bondage scenarios. With the accompanying handy knot-tying guide, you really can't go wrong.
All you have to do now is create a sensual environment.
Lush Strap-On
Ready to take your pegging game to the next level with the Lush Strap-On? This silky, soft harness adjusts for a sensual and comfortable fit that allows you to lose yourself in eroticism. It also comes with a hidden pocket for a bullet vibrator, if you're looking for an added layer of fun.
One of the benefits of pegging is that it allows cishet couples to explore the popular role-play idea of gendered role reversal. The vagina-owner now gets to be in penetrating power!
Neck and Wrist Restraint
It doesn't matter if you're into vanilla bondage or are looking to take things up a notch; our Neck and Wrist Restraint is a fantastic option for all. This will put your partner's flexibility to the test when you clip their wrists up or down the D-rings. The unit itself can be worn on the front or back of their body, giving you even more opportunities for kinky fun.
Plus Size Doggie Style Strap
For folx ready to have mind-blowing plus-size sex, the Plus Size Doggy Style Strap is right up your alley. This design is a bestseller, thanks to the fact that it's a superbly versatile device that makes the doggy-style sex position more comfortable. The penetrating partner can now easily control the depth, intensity, and hip positioning of their partner. Not to mention its ability to compress the vaginal canal for tighter, more erotic sensations.
Saffron Thigh Sling
The Saffron Thigh Sling is designed to benefit every unique body. This hands-free positioning strap leaves your fingers free to roam about as they please. Plus, the sling can be used by non-disabled people as much as it can help people with disabilities. It's been known to help alleviate discomfort if you experience pain or mobility limitations; so, sex with Cerebral Palsy or even increasing intimacy for someone with quadriplegia are made simpler!
Satin Blindfold
Who's ready to explore the world of sensory deprivation? With our Satin Blindfold, couples (or groups!) can uncover deep pleasure and explore their BDSM limits. Blindfolds and masks are an excellent way to do this, with this design being very comfortable and straightforward to use. To make up for a loss of sight, all their other senses will be heightened... don't be afraid to keep them guessing.
The Original Sportsheet®
No list would be complete without mention of The Original Sportsheet®. While confined to the comfortable-yet-durable Four Hook and Loop Velcro® Anchor Pads of our classic design, anything from light teasing, to nipple play, to spanking is on the table. Did we mention that you can do all this in any position of your choosing?
Trust us - this is how you want to celebrate the holidays with the best sex toy company ever.
Unity Vibe?
The Unity Vibe is one of the best sex toys and bestsellers on our website for a reason. This five-speed powerhouse is compact enough to fit in your purse, center console, or even a Unity-compatible strap-on.
Using sex toys is a great way to strengthen a bond between partners, whether it's a one-night stand, a short-term fling, or to spice up your sex life while married to a long-term partner.
With these fantasy sex toys at your disposal, keeping it real in the bedroom will be a breeze (and a dream come true). So, grab that amazing solo play masturbator, decide on the best couples sex toy for you and your partner and determine that today will be the day you begin experimenting with bondage for beginners.
Trust us, you won't be disappointed.
Which incredible fantasy sex toys are you going to grab this holiday season? In your opinion, what are the best sex toys that every person should have at their disposal?