7 Advantages to Discussing Your Erotic Fantasies Before Sex
By: Emily Fata
Exploring your sexual fantasies is absolutely life changing.
But what is a sexual fantasy, anyway? A sexual fantasy, also known as erotic fantasies, are mental images or thought patterns that stimulate a person's sexuality and can increase their feelings of sexual arousal. Talking about these kinky fantasies can be extremely advantageous both for you and your partner; let's just say that hot fantasy sex can be just as amazing as it sounds.
If you're curious to learn more about how to embrace your kinky sex ideas, read all of our top reasons below.
It allows you to discover your sex fantasies
Erotic fantasies come in all shapes and sizes (so to speak), ranging from being more on the vanilla side to including 'hardcore' aspects. This means that you may not just be keeping it real in the bedroom, but also somewhere out in public, including attending a kinky party!
Masturbation in front of a partner is a common fantasy, as is exploring the pleasures of anal sex (if this is something a person has not yet tried). Using sex toys with someone else is another popular erotic fantasy, including cuffs or floggers. For some folx, this may even be the utilizing collars and leashes as part of a Dominant and submissive interaction.
Just remember, regardless of your fantasy, clear and explicit consent is always required.
It brings you closer to your sex partner
When you feel confident in opening up and sharing your hot fantasy with someone you engage with sexually, it can make sexy date night ideas so much easier to plan. Not to mention that it can also open the opportunity for more fulfilling and exciting sex (more on that in a bit)! This is often beneficial for those in a long-term and committed relationship or for folx who have a regular sex partner.
Whether you're in a friends with benefits relationship, are dating someone, or are married, exploring these fantasies together can deepen your connection and bring you closer. After all, sex can often be very emotional.
It helps uncover new kinky sex ideas
When it comes to discovering your and your partner(s) sexy fantasy, working together is always a good idea. When you discuss the things you want to experiment with together, it can create a chance for everyone involved to consider what really turns themselves on. For example, maybe pegging someone with a penis was never a thought for a person until their partner asked them to consider using a strap-on on them. With some thought and consideration, and maybe with a bit of first-hand investigation, the couple found it was an incredibly satisfying sexual practice for everyone involved.
The bottom line? Talking about it can uncover an amazing world of sex that you may not have even considered.
It can enhance your overall sex life
Sex and fantasy go hand-in-hand in a way many people don't even realize. Did you know that diving into these fantasies can enhance your sex life in ways you may not have previously imagined? For some, this might look like exploring new methods of spicing up their sex life after having a baby. For others, it might be finding the best sex toys for erectile dysfunction, so that they can have an earth-shattering orgasm. Others, yet, may fantasize about sex positions or having sex in unique locations so sensual that the mere thought has them aroused to the max.
It enables you to be a more confident partner
When you are confident enough to talk about your fantasies with your partner, and you begin to explore them together, they can bring out a confidence in your sexuality you never knew you had. Yes, even if you were already super confident in your abilities! Nothing says 'confidence' like letting someone know what you want and how you can be more deeply pleasured.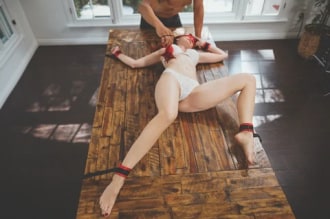 On that note, a common erotic fantasy that folx have is the idea of adapting a character or a 'new' version of themselves as part of particular role-play ideas. You can add a whole additional layer of confidence under the guise of acting as a 'different' person other than yourself.
It's an incredible method of foreplay
Did you know that the whole concept of exploring your kinky sex ideas doesn't even have to be the main event? In fact, you can use it as a type of foreplay, including thinking about your fantasies solely as a way of turning yourself on before having sex with someone. Whether sexting about it beforehand, integrating it into your dirty talk, performing a striptease or lap dance, or briefly letting that fantasy unfold during foreplay acts like oral sex, touching, kissing - whatever! - hot fantasy sex can get you in the mood a little bit faster and with a little more enthusiasm.
Trust us on this one; you won't be disappointed.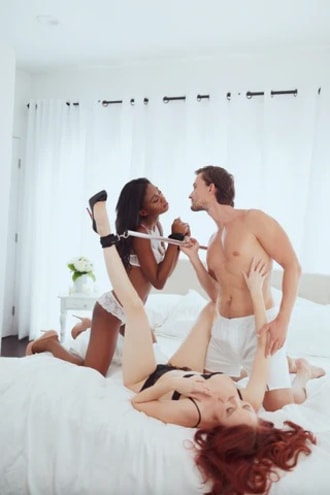 It can help introduce new practices like BDSM
When it comes to letting your sexual fantasy stories unfold, you may find that elements of BDSM can come into play. Vanilla bondage can be incredibly arousing, as can experimenting with different devices and props in the bedroom. Anything from restraints to ropes and bondage tape can be enjoyed, as well as practices from nipple play to heavy spanking. This is an excellent opportunity to explore and set your BDSM limits while discovering these practices and easing your way into them.
Candidly discussing your sex fantasies - including the sexual fantasy stories you've created in your mind - can be a fantastic boost to your sex life, whether you have a regular sexual partner or it's a one-night fling. From exploring your own wants and needs to discovering the depth of your sexual pleasure, your fantasies can unlock a sensual fire within you.
All you have to do is talk about it.
Are there particular erotic fantasies that you often find yourself thinking about? What are your go-to methods for discussing your sex fantasies or sexual fantasy stories with a partner?