27 Sexy Bucket List Items You Need to Try in 2022
By: Emily Fata
Let's be honest: keeping it real in the bedroom doesn't always come easily, whether you're in a casual relationship or have been struggling for sex during marriage to feel new and exciting. With the new year around the corner, many couples are adding 'More Sex!?' to the top of their list of New Years' resolutions. It's nothing to be ashamed of, and learning how to improve your sex life can even benefit folx who have tons of incredible sex.
With this in mind, we've created the ultimate sex bucket list for you, including ways you can experiment with kink and fetish, sex acts to try, and delving into locations you may not have previously thought of - And that's just scratching the surface.
Curious to learn more? Read our list of 27 sexual things to try below!
1. Buy a Sex Toy Together
Buying adult products online or in-person is a breeze when you find a good sex toy company. Lucky for you, we're here to help.
2. Take Things Public
Find a remote, secluded place to get it on in public. Outdoors or an indoor venue work equally well!
3. Explore Anal (Yes, Both of You)
Not only does anal penetration feel incredible, but butt play, generally, is so much fun! Oral (also known as 'rim jobs') are great sexual things to try.
4. Experiment with Oral Sex
Whether fellatio (blowjobs) or cunnilingus (eating out a vulva) are on the table, stimulating a partner orally is almost always a good idea.
5. Dive Into Your Kinks
Talking about your kinks and fetishes and exploring them as a couple can be amazing. Of course, always get explicit consent before engaging in your kinks with someone else.
6. Tie Your Partner (Or be Tied) Up
Lay out your BDSM limits and engage in bondage by playing with spreader bars, ropes, and bondage tape!

7. Send a Nude
Feeling sexy today? Why not snap a nude of yourself and send it over to your partner?
8. Get Into Steamy Sexting
Let your significant other know what you want to do to them tonight by sending a sensual text - any level of explicitness works.
9. Watch Your Partner Masturbate
Masturbation can be such a turn-on, and watching your partner bring themselves to climax can be so satisfying.
10. Masturbate in Front of Your Partner
Turning yourself on is not only erotic for you, but also for your partner to see you get yourself off by watching them.
11. Four Words: Chocolate on Their Body
Pour some melted chocolate along your skin and allow someone to slowly lick it off of you. It's one of our favorite sexual things to try.
12. Watch Porn Together
Watching (ethical) porn with your partner is a great way to get some ideas of what to do together.
13. Role-play Your Sexual Fantasies
Discover countless role-play ideas that both you and your significant other find appealing and satisfy your erotic fantasies.
14. Learn How to Give a Striptease
Whether at an in-person class or by doing your research online, learning how to give a striptease can be such a sexy way to turn your partner on.
15. Pinpoint Each Others' Erogenous Zones
Did you know that different points on the body can bring a person to orgasm (or help guide them towards one)? It's a sexual bucket list must-do!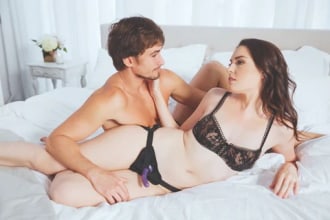 16. Use a Strap-On
Using a Strap On is a great way to build intimacy and switch up traditional gender roles for cis-het couples. Find the right strap-on for you two, together!
17. Experiment with Different Lubricants
Using the right lube can work wonders for enhancing pleasure during sex. Consider, even, using weed lube to enhance orgasm and fight anxiety!
18. Read Erotica Out Loud to Each Other
Your partner reading erotic stories aloud to you. Need we say more?
19. Take it Into the Backseat
Find a secluded spot, climb into the backseat of your car, and get it on! It's a little bit of adventure to spice up your day.
20. Join the Mile High Club
Next time you're on a flight, get creative and find a way to hook-up mid-air. This sense of naughtiness can improve your sex life!
21. Have Loud, Uninhibited Sex
Let it all out, as loud as you want to be. Let the walls shake, and the chandeliers quake.
22. Try Flavored Condoms
Flavored condoms can turn any penis (or phallic-shaped object) into a tasty treat. Are you ready to play?
23. Have Phone Sex
Not into sexting? Check off your sex bucket list by picking up the phone and having a sexy voice call with your significant other.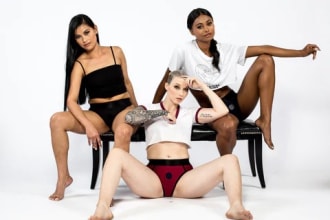 24. Enjoy a Sexy Threesome
Ready to bring in another person? Threesomes can increase your pleasure and allow both partners to explore outside their routine.
25. Attend a Play Party
Going to a kinky party with your significant other can be amazing fun. Not only can you engage with others sexually in a safe place, but you might learn a new trick or two.
26. Delve Into Swinging
No, we don't mean on a Door Jam Sex Sling (as fun as that is). We're talking about having sex with other partners, whether together or apart.
27. Bring Out a Blindfold
Use blindfolds and masks to unleash heightened physical sensitivity while having your body explored without visual perception.
Now that you've got your extensive sex bucket list planned out, which of these pointers are you going to tackle first?
As you move through your list, remember to get explicit consent from everyone involved, create a sensual environment to help get yourselves in the mood, and enjoy every minute of it. After all, no sexual bucket list is complete without full and enthusiastic investment of everyone involved.
What are you waiting for? Get started on your New Years' resolutions early!