Sex with Cerebral Palsy: Toys and Comfortable Positions to Keep You in the Moment
By: Emily Fata
Regardless of the severity of your symptoms, cerebral palsy often affects how you perform many daily activities. And sex with CP? Well, that often presents its own special set of challenges.
In describing his sex life with cerebral palsy in an essay for Vice, Spencer Williams writes, "Exploring one's sexuality is a daunting task even for able-bodied young people. For someone like myself, who suffers from a disability and needs constant assistance in everyday activities, the challenge has been all the more difficult." Fortunately, the CP community has a diverse and vibrant presence online, making the internet a valuable resource for people who have questions about sex with CP. Insightful first-person essays exist on a range of topics, such as losing your virginity with CP, how CP can impact masturbation and your sex life, kink sex with CP, and much more.
Our focus here, then, will be on the need for open communication with your partners and your caregivers, comfortable sexual positions, and toys that can make sex with CP more fun, accessible, and satisfying.
Discuss Needs Openly with Your Partner and/or a Trusted Caregiver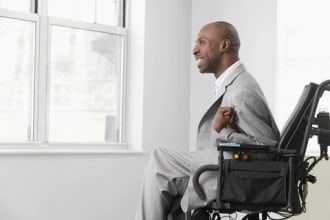 It can't be said too often: Open and honest communication is vital to fulfilling, happy sex between partners. While sexual partners should always strive for frequent open conversations about what they want, this is especially important when adapting to sex with a disability. Make sure your partner knows what you want and is considerate of your physical and emotional needs.
For those with cerebral palsy, open communication may also mean including your aide or caregiver in some blunt conversations about sex. Not everyone with CP requires a caregiver, of course. But if you do have a caregiver or an aide you feel you can trust, sharing your sexual desires and needs can help you see them fulfilled in healthy and safe ways. One of many striking details in Colin Wright's essay on his sexual experiences with CP is the length some aides went to in order to help him find positive sexual experiences - coordinating with brothels and sex workers, seeking accessible spaces, and providing transportation to and from his encounters. You might find it uncomfortable to discuss your sexual needs so openly, but open communication may be an important step on the path to getting those needs fulfilled.
Sexual Positions for Maximum Comfort
As you no doubt know, the symptoms and severity of cerebral palsy can be highly varied. Common issues with CP that can affect your sex life include muscle rigidity, muscle weakness, spasticity, and fatigue. Experimenting with the following positions might help you minimize the effects of those symptoms and maximize your comfort during sex.
Lying Down
The simplicity of this position makes it adaptable and accessible for many couples with CP. Lying on your back with a pillow to support your neck can take a lot of pressure off of your joints and muscles. In addition to providing comfortable support, sex while lying down is also a great position for anyone who finds it difficult to thrust or fully extend their hips. Lying on your back will help keep your pelvis pushed up, allowing you to stay in an ideal position for sex with a minimum of effort. For added support, consider placing another pillow under your hips.
Leg-Over-Leg
This position is fantastic for couples with CP, as it allows for deep penetration and intimate sex without requiring a great deal of movement and muscle dexterity. While lying down next to one another with shoulders and hips touching, one partner should slide a leg over their partner's leg, then slide their hips slightly up over their partner's. At this angle, they'll be able to control the speed, depth, and motion of the sex.
Seated Sex / The Hot Seat
This position is easily adaptable for use in a wheelchair or any stable chair you have in your home, and can often work well whether the partner with CP is giving or receiving. The first partner should sit with their legs as flat in the chair as possible with their spine and shoulders flush against the backrest, while the other partner sits directly in their lap. In this position, the chair should provide both stability and comfort. As with leg-over-leg sex, seated sex is excellent for deeper penetration without the need for a lot of shifting and thrusting. Either the bottom or top partner can control the sex as needed.
Oral Sex
Here's our periodic reminder that sex doesn't have to be centered on penetration. Oral sex is easily adaptable to multiple positions - lying down, seated sex, spooning - and is, of course, deeply intimate, sexy, and satisfying. For people with CP who experience spasticity in the hands or fingers, oral sex can be an easy, pleasurable, hands-free option.
Mutual Masturbation
Mutual masturbation is another wonderful idea for CP couples. Many couples find it sexy and thrilling to watch and hear their partner please themselves, and to please themselves for their partner in turn. Some people with CP may need help setting up for or cleaning up after masturbation - and cleanup is always more fun with a partner, right?
Sex Toys and Cerebral Palsy
There are numerous sex toy options for couples with cerebral palsy, both to boost pleasure and to help with positioning and stability. To add variety to your sex life while simultaneously increasing your comfort, these toys might be a great place to start:
Silicone Tickler: The tickler, like the sensory wheel, is for use all over the body during foreplay, stimulating arousal with light sensations across your skin. If you and your partner have been enjoying sexual massage or mutual masturbation, try adding a sensory toy to your fun.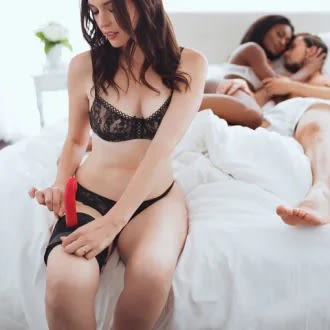 Thigh Strap-On: Some men with CP experience erectile issues. Worry not: There are plenty of fun and useful strap-on toys to assist couples having sex with ED. The Thigh Strap-On attaches directly to your thigh to enable your partner to grind against your leg. This is a fantastic toy to use in combination with the Seated Sex position we discussed earlier. You and your partner might also enjoy using an Everlaster, which straps around the waist and features a dildo with a hollow space for a soft or semi-erect penis.
Sex Sling: If you want to explore some more exotic positions, but feel inhibited by muscle spasms, consider a positioning toy like the Sex Sling. The sling loops around your neck and both ankles and will help keep your knees locked and your feet spread. It's a fantastic toy if you and your partner want to try having sex with your legs lifted in the air.
G-Spot Link: The G-Spot Link will help keep your feet spread an equal distance apart. This can be useful for controlling muscle spasms in your legs during sex. It also makes it much easier for your partner to lift and position your legs as needed.
Doggie-Style Strap: If you have difficulty moving your hips, the I Like It Doggie Style Strap can help you adapt to a number of positions. By wrapping the strap around your partner's waist or back, you can create motion using your arms and shoulders instead of thrusting with your hips. Many couples use it for missionary and doggy-style sex, but it makes other positions more accessible as well. In the Seated Sex example above, for instance, you could wrap the strap around your partner and use your arms to control thrusting, if lifting your hips and legs up out of the chair during sex is difficult.
Cerebral palsy may impact your sex life, but it shouldn't define sex for you or your partner. Healthy communication between partners (and between you and your caregivers, as applicable) is a vital first step toward gaining the sex life you want. By experimenting with different positions and different toys, couples with CP can find new ways to experience accessible, enthusiastic, and satisfying sex.