Sex and Intimacy After Amputation: Building Trust as a Couple in the Bedroom
By: Sportsheets

"I began to worry about the impact of my limb loss on my ability to be intimate before my amputation surgery. Because it is a sensitive and personal issue, I did not feel comfortable broaching the topic with amputee mentors. I was left to deal with my fears and emotions on my own, which probably made my adjustment more difficult."
Like any disability or lasting change to our body, amputation and limb loss can lead to honest doubts and uncertainties, such as those expressed above, stated by Peggy Chenoweth in an article for The Mighty.
Those concerns range from the small to the significant, and extend to every corner of life. It's natural to wonder about the effect on sex and intimate partnerships. While limb loss and amputation may require adaptations and modifications to your intimacy, it should not diminish the quality, vibrancy, and satisfaction of your sex life.
As with all couples, as with all sex, communication is key. When having sex after amputation there are some things that each partner should keep in mind:
When Approaching Sex After Your Amputation
However recently it's happened, for whatever reason, losing your limb is a dramatic change to your body. As you first prepare for intimacy after your amputation, remember that the only appropriate pace is the one that feels right to you.
Talk About It!
As Chenoweth says above, it's natural to feel sensitive about such a deep change to your body. But dealing with every fear and emotion alone, particularly emotions about sex and intimacy, can make the adjustment even more difficult.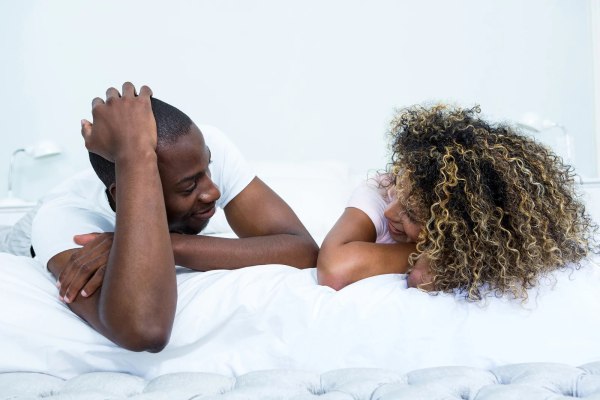 Take Your Time
Fundamental changes to our bodies require time to adapt, physically and emotionally. Sex itself is an intense physical and emotional experience and it can trigger a lot of residual emotions about our bodies. It's important to give yourself the time to adjust to a new bodily identity.
Make a Plan for Sex
As we've said before, sex is too often framed as an impassioned and impromptu experience. But in early stages of your recovery after amputation, intimacy might be something you and your partner want to map out in detail beforehand. Having that road map - what you want to try, what you think will make you feel sexy, and your current boundaries - will make the actual intimacy easier, and help you enjoy and stay in the moment.
Above all else, remember that a change in the way you have sex does not mean that your sex has been lessened. It only means you are adapting to a change. Writing for the Amputee Coalition of America, Psychologist Sandra Houston reminds that you "need to give yourself permission to try new ways to be sexual."
So Your Partner Has a Limb Difference
There are many ways you can support your partner after amputation or limb loss and help to create a new, fulfilling sexual identity in their changed body. The environment that you and your partner cultivate will be essential for helping you both create new paths for intimacy and sex.
A Space to Experiment
Work to create an atmosphere and demeanor that encourages safe experimentation and failure. Your partner will need to experiment - lucky you! - to find the combination of positions, aids, and toys that work best for them. This will take time. Chenoweth cautions that, "for partners of an amputee, patience is imperative! I was desperate for reassurance that I was attractive, and that I was still viewed as a whole woman. My body shape had drastically changed and it took a while to learn and to accept how I looked and felt." The more you foster a mood of patient, stress-free experimentation, the more you can reassure your partner and create a fulfilling experience for each of you.
Speak Up
Generally, you should take your partner's lead as you both experiment and play with sex in the weeks, months, and years after amputation. Let them set and change their boundaries as they grow more comfortable with sex. But your concerns, questions, and ideas need to have a place as well. An open line of communication has to move in both directions.
Don't Focus All Your Attention on the Amputation
You'll want to support your partner in dealing with their amputation without making them feel like they are defined entirely by it. The bedroom is a surprisingly great place to reinforce that dynamic. Do you have a fantasy involving your partner - particularly one that doesn't put a lot of focus on the amputated limb? Share it! Sex is a wonderful way to remind your partner that you are attracted to the whole of them, and that they have a (sexy, wonderful, more-than-adequate) body beyond the missing limb.
Playing Together Builds Trust
Experimenting with aids and toys is a fantastic way to build intimacy and trust in your sex life after an amputation. The right toy can help you and your partner rediscover feelings of playfulness, excitement, and fun. Here are some ideas and suggestions for toys and aids to try:
Feather Tickler:

As you work to build intimacy after amputation, start with a toy that encourages playful, low-stakes fun. With a feather tickler, you and your partner can lightly stimulate one another while exploring and teasing all parts of the body.

Collar with Nipple Clamps:

If you want to incorporate a toy without focusing the attention on the amputation, try a toy that is designed for use around your waist, chest, or neck. A collar with nipple clamps, for example, is sexy and fun and does not necessarily need to involve anyone's limbs.

Suction Handle Bar or Foot Rest: An amputation can change your sense of stability. Though the handle bar and foot rest are great in the shower, they will also work on any flat, smooth surface. Try out some suction support toys and see if they offer you some added stability during sex.
Sex Sling:

Sex after amputation can be particularly difficult if it feels like the amputation has affected your ability to enjoy one of your favorite positions. That's where a positioning aid comes in! A sex sling, for example, will allow you and your partner to try positions - old and new - that you may have not even been able to do prior to the amputation.
Sex after amputation requires adjustment and adaptation, from both the amputee and their partner. But open communication and a willingness to experiment can help lead you to new paths for fulfilling intimacy and sex, and the opportunity to grow closer, together.