Paraplegic Sex: Tips and Toys to Increase Intimacy and Pleasure
By: Sportsheets

Almost anyone who has experienced any degree of paralysis can tell you that friends often share questions about your disability once they feel close enough to ask. And when the braver friends have exhausted their polite questions - Do you feel any pain? - they sometimes get down to the questions they've wanted to ask, but propriety prevented them: Can you still have sex? Do you enjoy it?
It's a natural curiosity, as paralysis at any level is life-altering and can impact both muscle use and sensation. But just as we said while discussing back injuries and amputation, paralysis is not the same thing as being sentenced to a sexless life. There's an entire world of tips, toys, and positions to enhance intimacy and keep your sex life active and healthy as a paraplegic.
Communication - As Always - Is the Place to Start
As we've said before, sex is an intense physical and mental experience that can trigger ingrained emotions about your body. Trying to adapt to sex as a paraplegic - or just to improve your sex life as a paraplegic - requires open honesty, with yourself and your partner. The more you share your wants, desires, and (particularly!) anxieties with your partner, the more you will be able to address them together.
Foreplay - As Always - Is the (Other) Place to Start
Foreplay is an important part of sex, and for many partners, is a direct channel to sharing feelings of intimacy. Your need for foreplay doesn't change just because of paralysis. Small alterations to your foreplay can make the experience more accessible and allow both partners to focus on mutual arousal and intimacy.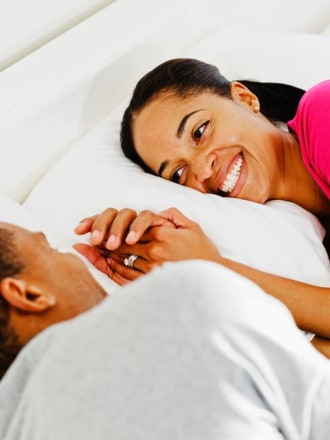 Many paraplegics sleep with a body pillow between their legs to ease pressure on the hips and knees while sleeping on their side. You can do something very similar while engaging in caressing and heavy petting. Each partner should lie on their side facing one another and place one end of the pillow between their knees. From this position you and your partner can more easily touch and talk to one another. As you become more aroused you can slide closer along the pillow until you are both finally pressed together.
You should experiment with foreplay using parts of your body that you might not immediately think of as sexy or sexual.

Auti Angel of the show

Push Girls

says, "It's like when people become visually impaired and their smells and other senses become heightened. It's like that with us - we just lost sensation in a different area." Your neck, shoulders, arms, and sides may grow to become new erogenous zones. Encourage your partner to kiss, touch, and tickle new parts of your body and keep an open mind to

new paths of arousal:
The delicate touch of toys like a tickler or pleasure feather can be used for light play as you explore your body for new and unexpected sensations.
If you and your partner are interested, a

flogger, a crop or a slapper are for rougher teasing and spanking. It's worth remembering that arousal comes from more than just sensation. The heavy "thhhwack!" that a slapper makes while your partner spanks you can be arousing even if you have limited sensation.
Sex Beyond Erections
Men with paraplegia can experience a huge range of effects on their erections. Some men still get and maintain them with relative ease, while others might use a variety of toys or devices to help sustain an erection. For paraplegics who can become erect but have trouble maintaining that erection, a cock ring or a harness with a cock ring can be a simple and inexpensive boost for feeling more confident in your erections. Prescriptions and penis pumps work well for others, and there are also more permanent surgical options that some consider.

But an erection is not the only way to define sex, and certainly not the only way to have intercourse. Dildos and vibrators will let you please and penetrate your partner using your hands or mouth. A strap-on will allow you to penetrate your partner and focus on your mutual arousal rather than be distracted by concerns about maintaining an erection. With a hollow strap-on, a man can fit his penis, soft or erect, inside the strap-on where it can be used for as long as you both have energy. Strap-ons also work equally well if you have strong arms and shoulders and want to be the partner on top during sex, or if you'd rather lay down and have your partner be on top.
Positions & Toys for Paraplegic Sex
As a paraplegic, some sex positions will simply work better and be more fulfilling than others, so it's important to experiment and discover what works best for you, your partner, and your level of paralysis. For extra fun - and help! - consider a toy or positioning aid.
If you have trouble keeping your legs or feet in the same position because of paralysis, try leg restraints or a spreader bar and cuffs

. With either toy, you can keep your legs and feet strapped in one position spread apart for a variety of play and positions. For example, you can position your legs over your partner's head and rest them around their shoulders and neck. This linked position is perfect for all kinds of vaginal and anal play.
Similarly, other restraint and positioning products might work well.

The Sportsheet

, for example, allows limbs to be positioned and restrained anywhere on the soft hook and loop bed sheet, allowing for both variety and control. (As a side note, some paraplegics worry about experiencing a bladder movement during sex or making a mess during orgasm [you know, like, a bigger mess than intended]. The dark, machine-washable Sportsheet attaches above your regular bed sheets, and may negate this concern.)
In multiple positions - doggy, missionary, side-by-by and so many more

- a strap can be used to increase the motion, depth, and speed of sex even if you have limited control of your hips. A strap that is soft and padded can be wrapped comfortably around your partner's waist, belly, butt, or anywhere else you want leverage. Grip the handles and use the strength in your arms and shoulders to thrust.
A door jam sex sling

makes standing sex with your partner an option for paraplegics. It secures to the door and provides cushioned straps and cuffs to hold your feet and legs in the air. The sex sling is great for deep penetration and it spreads one partner into an ideal position for oral sex or

tickling.

If you want the feeling of banging into the headboard but find that position difficult to hold, the sex sling lets you have a rough time against the door.
And there are many more toys beyond that to explore and incorporate into your sex life. Experimenting with your options for foreplay, positions, and toys will, no doubt, increase the fun and health of your sex life as a paraplegic. More than that, the experience of discussing and exploring the possibilities with your partner will draw you closer together and increase the intimacy and satisfaction for you both.