Epic Sex and Disability Aren't Mutually Exclusive - Here Is Why
By: Emily Fata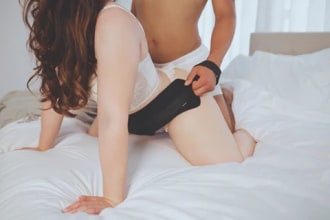 There are many myths about sexuality and disability, all of which we would love to debunk. However, while we can't address each of them, we can share some advice on sex and disability, particularly on how one can have a physical or intellectual disability, while sexuality is still a significant aspect of their life. Although society may input opinions regarding body image, safe sex (or lack thereof), and on the parts of people's bodies, they don't get the final say.
On the contrary, everyone can write their own stories, including who they are physically attracted to, whether they choose to engage in sexual activities, and the tools and practices they use during these experiences.
Sex and disability can (and do) overlap
Your sexuality and desire to express it are unaffected by a physical or intellectual disability. Information on sex and disability emphasizes function and fertility rather than the completely natural feelings and emotions we encounter alongside it, including desire, love, and attraction. Meanwhile, physical and intellectual disability and sexuality can go hand-in-hand, overlapping and bringing intense erotic pleasure to anyone seeking it.
Generally speaking, intimacy can boost physical and mental health, meaning that sexual relationships (be they long- or short-term) for folx with disabilities are natural and beneficial. The same goes for acknowledging and exploring your sexual fantasies with a consenting partner who is equally into it.
Oh, and a word to the wise: Sometimes, the perfect mix of candid communication and using the right lube can go a long way for creating a comfortable foundation for incredible sex.

Anyone can experience sexual attraction
Sex and disability don't discriminate against each other. That is, someone with a disability can enjoy sex as much as anyone else. While elements like body image can potentially influence one's view of themself or their partner (for example, sex and intimacy after amputation) and acceptance of a changing body (such as with Multiple Sclerosis), they do not necessarily change the fact that folx still feel sexually aroused.
Keep in mind that this also applies to one's self-sexualization, the desire to please yourself and turn yourself on. Discovering your own body - including your turn-ons, erogenous zones, and simply what feels the best in particular positions - can be an ideal starting point.
As a side note: for both self and coupled erotic practices, using weed can enhance orgasm and fight anxiety.
Impact play can be a release for some folx
Did you know that impact play and the infliction of pain in people already experiencing chronic pain can be a source of release and, ultimately, of pleasure? Varying the force behind a toy's impact - anything from spanking with crops to a sharp whip - can be highly sensual. Similarly, playing with objects like a tickler can be erotic, though for the light and delightful sensations it causes. In combination with this, we recommend finding sex positions that work best for your pain: anything from arthritis to chronic back pain.
Other options include blindfolds and masks for sensory deprivation and collars and leashes for an added layer between a Dominant and submissive. Whatever you choose to use, when it comes to impact play, remember to practice safe sex by implementing an agreed-upon safe-word before diving in!
There are plenty of 'tools' to use
Bondage and positioning can be an excellent source of physical support and position achievement, particularly for people with a physical disability. Folx with tremors or muscle spasms may opt to use restraints, spreader bars, ropes, and bondage tape to keep their limbs in place. Yes, this includes experimenting with bondage for beginners (or even more advanced play)! Remember, disability does not necessarily affect a person's sexual attraction or their desire to have sex, so finding the best tools to support you while having sex can be a big help.
For fulfilling sex in a wheelchair, couples might consider a Door Jam Sex Sling to lower one partner onto the seated individual. It helps to have safe sex in a sturdy, comfortable way. Others may prefer using sex toys, such as a strap-on to stimulate a partner's G-spot or P-spot during vaginal or anal sex. Strap-ons are excellent aids for veteran intimacy struggles and some of the best sex toys for erectile dysfunction. Just remember to check out our sex toy cleaning guide afterward!
Remember: Sex isn't just about penetration
While vaginal or anal penetration can be a major part of sex for many people, it's not the 'be all and end all' - not only for physical or intellectual disability and sexuality, but for all folx. In fact, it can significantly help in reducing discomfort during sex! Masturbation is a top preference, where you can bring erotic pleasure to yourself or your partner by stimulating the genitals or erogenous zones of the body to near- or full-orgasm. We also suggest exploring nipple play, as the nipples are an ultra-sensitive area for many bodies.
As well, making a sex toy purchase can be an incredible way to up the pleasure between yourself and your partner in the bedroom. There are plenty of vibrators for couples if you want to use a toy together, as well as a wide variety of sex toys for personal use. Remember that excessive wetness, squirting, or ejaculation are not always indicators that a person is or is not enjoying their sexual experience; communicate with one another to ensure that you are both into it and feel great.
We hope it is now abundantly clear that you can be disabled and sexually active, experience sexual desire, and embrace your sensual side to its fullest. By exploring your passions through your unique lens, finding suitable toys and tools to bring pleasure to both yourself and your partner, and discovering practices you might not have previously considered, fulfilling sex is possible. This goes from increasing intimacy and pleasure while paraplegic to openly communicating sexual desires when you have an intellectual disability.
From a personal perspective, what influences your sexual attraction to a person? What are some of your tried-and-true methods for encouraging a positive body image for yourself (and how do you feel sexiest)?