Bringing Mobility and Comfort to Your Sex Life with Sportsheets
By: Emily Fata
For many people, the ability to move about freely is a key factor in leading a comfortable life - including their sex life. For those with a mobility disability (whether a short-term disability or a long-term disability), this can be a challenge.
However, there are a number of ways to bring mobility and comfort to your life, even if you have difficulty getting around; after all, sex and disability are not mutually exclusive.
Disability Doesn't Equal 'Sexlessness'
A physical or intellectual disability has no bearing on your sexuality or desire to display it. Instead of focusing on the very natural feelings and emotions we experience alongside it, such as desire, love, and attraction, information about sex and disability places an emphasis on function and reproduction. However, disability and sex can undoubtedly coexist, with anyone desiring deep erotic pleasure having the opportunity to attain it.
That said, intimacy generally improves both physical and emotional health, thus either long- or short-term sexual relationships are natural and healthy for all people, without being desexualized or sexualized. The same holds true for acknowledging and pursuing your erotic fantasies with a consenting partner.
Short-term Disability and Injury
Not all physical disabilities are long-term; there are many types of disability that folks can recover from in a matter of weeks, months, or years. Whether someone is looking to enjoy safe sex after hip replacement surgery or, perhaps, is seeking out the best sex positions after a back injury, short-term disability does not necessarily have to hinder a person from having incredible sex.
This also applies to one's notions of self-sexualization or their desire to pleasure themselves and turn themselves on. Discovering one's own body - including turn-ons, erogenous zones, and what feels the best in particular positions - can be an ideal starting point.
Long-term Disability and Sex
For some folks, their long-term disability is simply not being able to perform certain activities or tasks due to a given condition, while others may be more 'visible', such as using a wheelchair. Many factors can contribute to disability, including age, illness, injury, or congenital conditions. In fact, according to the World Health Organization, about 15% of the world's population lives with some form of disability, from younger people to elderly.
So, whether you are looking to have sex with Cerebral Palsy, are a veteran with intimacy struggles, or are looking to have more comfortable sex with Multiple Sclerosis, taking advantage of the benefits of both sexual intimacy and positioning can genuinely transform the way folks with disabilities have sex and experience genuine erotic pleasure.
Sportsheets' Sex Resources
With various types of disability, it's important for folks to have options to make their intimate lives more accessible and enjoyable. With this in mind, only take part in sexual acts that you feel comfortable and enthusiastic about. There's no obligation here - your pleasure, however that looks, comes first.
Curious about our top picks? We've got you covered.
Silky Bit: Unlike ball gags, this sash tie will fit the head of any silenced sub for sexy fun. The bit easily slides off for the sash to be used during restraint play. Sometimes, lack of control can be incredibly empowering for folks with disabilities to regain their sense of authority over their sex life, and this bit is perfect for beginners, all the way to more advanced play.
05]
Face Strap On: The perfect device for penetrating a sex partner with a sex toy (in particular, a 1" O Ring-compatible dildo), this strap-on is an ideal option for folks with mobility impairments. In fact, it's designed to be comfortable for all bodies! Whether using your neck and head for penetration power or having your partner mount and ride your face, this is sure to be an orgasmic time!
Sports Cuffs & Tethers Kit: With a set of Sport Cuffs and sturdy tethers, you can easily rein in your lover to any piece of furniture in your house, making bondage convenient and adaptable. Adjust and link the tethers wherever your heart pleases, shackling their ankles or wrists. You can also use the ropes to easily guide your partner's limbs, making sex positioning a breeze.
Tug On My Heart Nipple Clips: Pleasure and pain can be the ultimate combination, including for folks who experience chronic pain. In fact, controlled pain can offer a sense of release and empowerment for many. These appealing clips have rubber-encased tips for a pleasurable clamping sensation and are perfect for nipple play. Couples (or solo explorers) just testing the waters of BDSM, all the way to people with plenty of experience, will love to add this to their toy collection.
Adjustable Spreader Bar: Not only are spreader bars a fantastic tool to add to your BDSM repertoire, but they're also a perfect position aid! This bar expands from 28.5" to 37", with simple assembly and the ability to disassemble for quick and easy transport. It also has clips on both ends that you can use with our Edge Wrist, Arm, or Ankle Cuffs!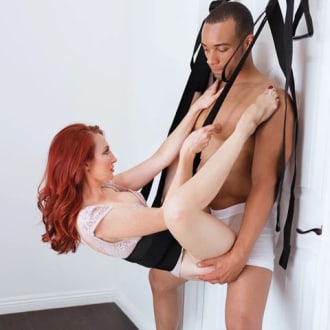 Door Jam Sex Sling: This device is perfect for helping to have fulfilling sex in a wheelchair and to aid folks in getting in the ideal position for penetrative sex (without having to stress about stamina, awkwardness, or injuries). The sling is strong, durable, and highly adjustable, lending to endless sensual fun together! Its footrests, hand straps, and padded seat make it a comfortable option for many.
When it comes to sex, mobility and comfort are two important aspects that many take for granted. However, for folks with various types of disability, these things are not always easily accessible. By exploring the ways to bring mobility and comfort during sex to those with physical disabilities, we stop looking at disability as a shameful hindrance and instead eliminate the myths about sexuality and disability.