What Is Pegging and Can It Boost My Sex Life?
By: Emily Fata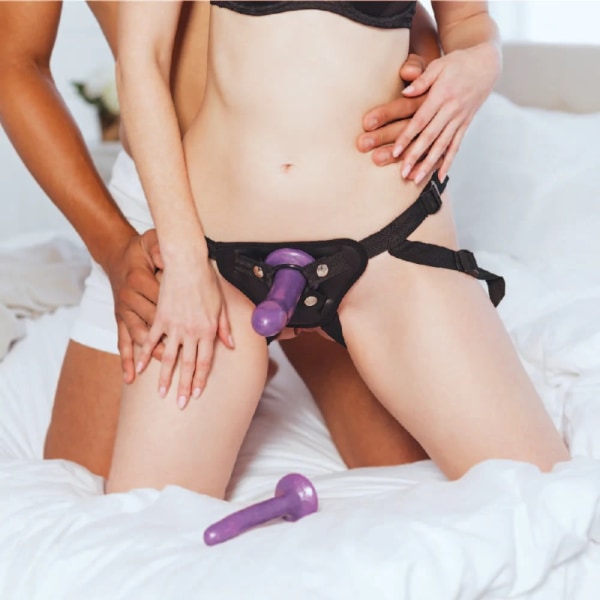 Chances are, you've heard of vulva owners and women pegging their sexual partners. Sometimes this is using a pegging dildo shaped like an actual penis, other times, using one that does not appear life-like at all. The fact is, it can be enjoyable and pleasurable and is a great way to flip the scripts on gender norms!
Sure, watching ethically produced pegging porn can help you gain a better idea of how to go about your first pegging (or to up your game, if this is something you've already tried in the past), but we recommend filling up your metaphorical cup of knowledge first.
Let's start at the very beginning.
What is pegging?
Pegging is the act of a vulva owner using a strap-on to penetrate their partner anally. Typically, this is a role reversal between heterosexual couples, where a woman is pegging a man. Many folx gravitate toward this role-play idea, as it allows you to step out of both gender- and sex-based norms; after all, the vulva owner now has a 'penis'. However, lesbian couples can enjoy pegging one another too, which can be done both anally and vaginally. Just remember to clean your dildo thoroughly when switching from anal to vaginal penetration to avoid infection!
It's important to note that sex and disability are not mutually exclusive, so pegging is something that everyone can enjoy. (We discuss some of our favorite sex toys for every fantasy below.)
Is "BDSM pegging" a thing?
Like all areas of sex, BDSM pegging is totally a thing. This would be the act of pegging - as we mentioned before, anally or vaginally - with the added layer of BDSM. Couples can explore more vanilla forms by using blindfolds and masks, soft restraints, and even ticklers on the penetrated partner. If you're hoping to explore a more intense side of BDSM pegging, you may opt to use products like The Original Sportsheet®, spreader bars, or ropes and bondage tape to keep you in place while your penetrating partner plays with floggers, crops, paddles, or whips.
Before you dive into this, though, have a frank discussion with your sex partner(s) about your hard and soft BDSM limits.
What should I consider for my first pegging experience?
Before jumping into your first pegging experience, there are a few things you should consider. There are different considerations for both the person using the strap-on and the person on the receiving end of the pegging dildo (the penetrated individual).
As the pegger:
Don't forget that communication in sexual relationships is critical, and you must have explicit consent before proceeding. Ask your partner if they're looking to try out other things, like vanilla bondage or spanking. Start penetration slowly and test out what feels right for you both.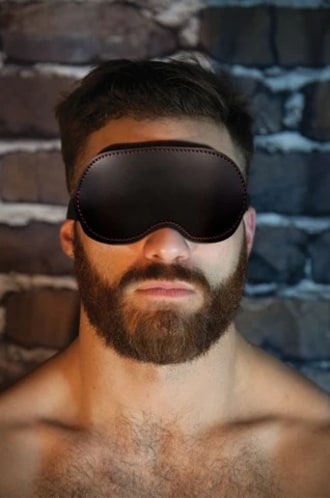 As the pegged:
As you delve into anal sex, guide your partner to your P-spot (if you have a penis) or A-spot (if you have a vulva). For vaginal pegging, the G-spot can be stimulated, potentially leading to squirting! Keep it real in the bedroom by being open about reducing discomfort during sex, such as suggesting changing up lubes.
How do I pick the right pegging Strap On?
When using a Strap On, it's not only vital to find one that is made of body-safe materials for both yourself and your partner, but to use one that fits comfortably on the body. That's why finding a good sex toy company to buy adult products online or in-person is paramount (and why Sportsheets is always a reliable choice).
For first-timers, we recommend the New Comer's Strap On or Anal Explorer Kit. The crotchless Em.Ex., Silhouette is also an excellent and comfy option, as is the Em.Ex., Contour. If you're looking for alternate materials, then the Leather Strap On or Lace Strap On might be for you.
Paired with a bullet vibrator for clitoral stimulation while thrusting into your sex partner, the Lush Strap On (which frames your ass perfectly while accommodating a wide range of dildo sizes) offers another level of stimulation. Also worth consideration is the Bare As You Dare Strap On (as the name suggests, this option doesn't leave very much to the imagination, thanks to a G-string-like harness that almost feels as if it's not even there).
For folx unable to thrust their hips, our Thigh Strap On is perfect for penetrating a partner.
I want my partner to peg me... Now what?
If you feel comfortable doing so after an open discussion, jump right in! Shopping together for the perfect strap-on is an excellent way to discover your desires together (we recommend checking out our women-owned sex toy company, first and foremost). Figure out what kind of harness works best for the pegger and which dildo shape is preferred by the partner being penetrated.
Should you not feel ready to leap into pegging immediately, we suggest exploring your fantasies by watching pegging porn as a couple, reading erotica on the topic, or even sexting to describe how you want the moment to unfold.
Don't forget that anyone can enjoy pegging or being pegged, regardless of ability; anyone who says otherwise is feeding into the myths about sexuality and disability.
Whether you were uncertain of what pegging was or have discovered a new strap-on for pegging that you can't wait to try out, we hope you learned something new and exciting today. Remember to keep our sage words of advice in mind as you test your boundaries and learn to explore both your and your partners' desires. While you learn more about your bodies, you'll get more comfortable with exploring even further.
Now that you know where to start, the next step is watching some pegging videos online to see it in action or to head over to shop from our extensive collection of pegging Strap Ons designed for all bodies.
Is using a pegging strap-on something you would be interested in exploring yourself? If you've enjoyed pegging in the past, how did you find the perfect pegging dildo for you and your partner?