Explore the Rainbow: Connect in All Colors with Sportsheets
By: Ema Fata
Exploring your sexuality isn't a linear journey. From sexy solo sessions to play with a partner (or partners), Sportsheets has the resources to unlock your deepest desires. We have the sex-positive attitude you need to feel accepted, safe, and welcome every single day.
However, this month is particularly special. Pride Month is a celebration of connecting in all colors, of confidently being able to shout to the world: "I have pride in myself!" We're celebrating everyone in the rainbow with toys of all colors, shapes, and sizes, offering folks healthy, inclusive ways to explore their sexuality.
Today, we're diving into our favorite colorful toys (many of which come from our Merge Collection) to share our Pride with you this month, whether you're here as a member of the queer community or to be an ally.
Face Strap-On
Soft, stretchy, and flexible, the neoprene Face Strap On fastens to the head securely of Doms wanting to ride their sub's face or to penetrate their every orifice. We also love this strap-on because it's designed for anyone to wear; sex and disability are not mutually exclusive, and a harness like this can, as an example, help foster intimacy as a person with quadriplegia.
We truly offer sexy toys for every fantasy!
Emerald O Rings
This four-pack of beautifully colored latex-free O Rings are stretchy yet firm, coming in various sizes (1.5, 1.75, 2 and 2.25 inches) to fully personalize your strap-on experience. Simply swap out the O Rings your favorite harness already comes with for this vibrant alternative, securing and stabilizing your dildo with a newly added flair.
What are you waiting for? It's time to add some color to your Pride Month fun with your new Emerald O Rings!
Ryplie 6' Silicone G Spot Dildo
Our Ryplie 6" Silicone G Spot Dildo brings as much pleasure as it does visual appeal! Plus, when paired with a 1.5-inch O Ring (any of the ones mentioned in this article are a great option), you can enhance your experience with Ryplie even further during strap-on play! Folks who enjoy using sex toys, regardless of their kinks and fantasies, will be missing out if they don't opt for this soft silicone dream.
Door Jam Sex Sling - Special Edition
We love the Door Jam Sex Sling for so many reasons. For one, it helps quash any myths about sexuality and disability, including helping folks using a wheelchair have more fulfilling sex. As well, it's perfect for anyone who enjoys using a strap-on, but is seeking out optimal sexual positioning options for standing, sitting, and tilting (all while incorporating a detachable anchor pad with your favorite flare-based dildo).
Give it a whirl. You can thank us later.
Coral O Rings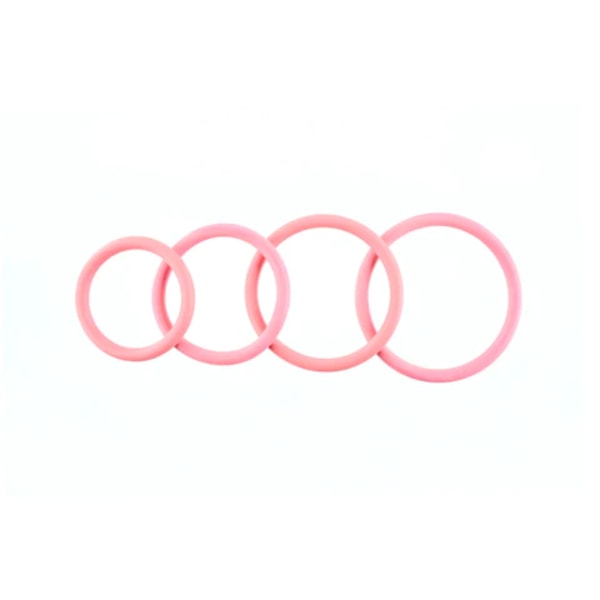 Nothing says 'I have pride' quite like these colorful Coral O Rings!
Your partner will be celebrating more than Pride this month, once you introduce this 4-pack of fun into your bedroom play. Not only do these latex-free rings work amazingly with your go-to strap-on, but they also work as a C-ring. Slip them over your penis and testicles to boost your stamina and last even longer during sexual activities.
Sage 8' Silicone G Spot Dildo
With eight inches of pure fun and earth-shattering climaxes, our Sage Silicone G Spot Dildo is also the perfect shape for stimulating the anal P-Spot. The super-smooth surface makes for orgasmic sensations that will have you on Cloud Nine
Whether snugly in place in a strap-on or being manually used during solo or partnered play, the ample curvature and non-realistic pleasure-bump shaft will pair well with restraints, spreader bars, and bondage tape.
Montero Strap On
The beautiful thing about the Montero Strap-On (or any strap-on, for that matter) is that it can be embraced by anyone, regardless of if they are a part of the queer community. Whether pegging someone with a penis or vagina, Montero can be paired with the best sex toys to fulfill your sexual needs, such as vibrating dildos, to hit the right spot and bring your partner to orgasm.
We made finding the right strap-on a simple task.
Periwinkle O Rings
These colorful rubber rings double as C-rings and are easily interchangeable so that folks can find which size works best for their unique body. Plus, they add an exciting splash to darker harnesses and an additional layer of vibrancy when paired with our various colored toys! Tossing the Periwinkle O Rings toward your partner is like a Pride flag waving at a Pride parade.
Galaxie Silicone Dildo, 7"
Reminiscent of the bright and beautiful colors of the Pride flag, the Galaxie Silicone Dildo not only slides into your go-to strap-on for pegging fun, but can easily suction to a smooth surface for endless self-pleasure. The tip's curve makes it perfect for both G- and P-Spot stimulation, which every body is sure to fall in love with.
Ready to go for a ride? Just add a little bit of water-based lubricant, and it's off to the races!
OVE Dildo & Harness Silicone Cushion
The perfect cushion to protect your pubic bone from bruising while using a strap-on, our OVE Dildo & Harness Silicone Cushion's gorgeous color goes hand-in-hand with any of our vibrant Merge Collection dildos! They easily slide over the base of dildos measuring 2 to 3.75 inches and enhance the comfort of any strap-on wearer. Plus, paired with any of our stretchy and colorful O Rings, you can add an extra element of cushion during thrusting.
Here at Sportsheets, we say lesbian, gay, bisexual, transgender, queer, intersexual, asexual; we explore the rainbow and connect in all colors, whether or not it's Pride Month. The products above, as well as any other item we offer, is an extension of this deeply rooted belief system that is engrained in our mission and our values.